Platforms iOS and Android
Provided Services UI/UX Design, App Development, QA
Year 2018 – 2019
Colors & Fonts Guide
We have used clean and minimalistic UI design with bright accent colors to make it look intuitive.
Logo
Abstract
Available in Georgia, USA, Raklux is one such taxi booking app, allowing riders to book an affordable ride in just a few minutes. Riders can request a car with just a single click on the screen and get picked up by a nearby luxury driver who will drop rider to the destination without any hassle.
The most unique feature of this ride-sharing app is the preferred driver that allows riders to mark any of their favourite drivers as a preferred one so the next time the request goes to him if he is available in the same vicinity. Further, this taxi app platform is known for its luxurious rides, so riders will find no regular car while booking a cab.
Using this taxi app like Uber, riders will enjoy the ride, making their first and subsequent trips memorable. Moreover, only high-rated drivers are allowed on the road, so riders will experience a safe ride.
RAK_XL

Group Travel Ride

RAK_X

Luxury Driven Ride

RAK_SUV

Personal Smart Ride

RAK_BLACK

Convenience of Ordering

RAK_WOMEN

Exclusively by Women
Top Features We Integrated
Into This Taxi Booking App
We have developed two different variants in the app, including taxi app for riders and taxi app for drivers. We have also developed an admin panel (dashboard panel), partner panel and promotional website. Let's have a quick look at the top features that we have integrated into this taxi solution.
Book a ride or schedule for later
We have made it easier for riders to book a ride for now or schedule it for later by just entering date and time. As per their preferred time and date, riders can schedule a trip so that they don't have to wait on the road.
Track a ride
Once rider books a ride, he/she can track the driver and know his current location and estimated arrival time. The rider can constantly track the driver and know his whereabouts.
Manage trip parameters
Considered as the most useful feature, it allows riders to book a ride with any special request like baby seat, wheelchair, music and any other request. Riders can ride a comfortably.
Trip history
Riders can check all their trips be it completed, upcoming, cancelled or ongoing along with the pick-up, drop-off locations and fare for the specified trip. Under history, complete information on rides will be maintained.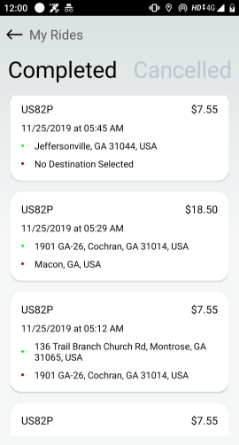 Favourite destination
Rider's app has a favourite destination feature, allowing riders to mark any of their visited destinations as the favourite one. This feature will help riders to choose the same destination for the next time.
Payment gateway integration
Integrated multiple payment options in the ride-sharing app, it allows riders to pay for the ride directly from the app with just a click. Riders can make payments through cash, debit/credit cards, net banking or e-wallets.
Accept or reject request
The drivers of this taxi app can accept or reject the request as per their availability and convenience. With just a single click on the screen, drivers can accept/reject the ride; however, they need to ensure that they don't reject requests constantly.
Route selection
The driver's app allows drivers to choose a route from two different options Google Maps and Waze Map. The driver can choose any route suggested by any of these two options.
My destination
It is one of the most useful features for the drivers of the Raklux app as it allows them to enter the predefined routes when they are on their way home. It will help drivers to get rides that come in their home's route.
Trip history
The driver's app has a trip history feature that allows drivers to maintain a complete history of the accepted, cancelled and ongoing rides along with location information.
Manage driver-wise commission
The admin of the Roklux app can manage the commission of all the drivers directly from the admin panel. Using this feature, the admin can set and define the driver's incentive and set different commission rates for the preferred drivers.
Manual dispatch
Directly from the admin panel or we can say the dashboard panel, the admin can manually assign a trip request to the driver on behalf of the rider. This feature is useful when the rider is in the low-network area or from the outstation and called admin for the trip request.
Admin reports
Another major feature of this panel is, generating reports by week, month, quarter and year. The admin can get the total trip statistics, generated revenue and other important reports with just a click on the button.
Sub-admin role management
Admin can create sub-admins with limited access to the features and can define rights for sub-admins. As per the needs, they can create different sub-admins and define their roles.
Rider's App
Driver's App
Admin Panel
Have you ever thought to invest in the taxi app development to automate your taxi business operations? It's the right time to enter the market and develop taxi app like Uber. Just consult our taxi app consultant now and discuss your requirements.
Raklux Application Screens