Solutions we provide to real estate agencies
We have expertise in developing custom mobile and web-based software solution for real estate enterprises or companies to manage and automate property listing, contract management and documentation.
Mobile application both on Android and iOS
Want to Automate Your Real Estate Organization Operations?
Being a CEO and CTO of real estate agency, enterprise, or company, you might have a hectic schedule due to managing a team of real estate agents & brokers, daily property operations & portfolios, creating and storing quotes, invoices, price books and bills in the account. But what if you can manage all these operations digitally at one single platform?
We design and develop mobile and web-based software solution, letting you automate property operations and portfolios in just minutes what used to take days. In fact, we help you to complete your daily tasks more efficiently by arranging your activities into separate real estate modules and solutions that we develop.
Are you running real estate agency or enterprise, but don't know how real estate software or mobile app can benefit your business? Get in touch with us and our expert team will explain you in detail
Real Estate Modules & Its Top Features We Develop
Real Estate CRM Solution
Client/Property Matching
Contact Management
Calendar Management
Email Marketing
Lead Management
Listing Management
Property Management
Real Estate Back Office Solution
Property Management Software Module
Billing and invoicing
Commercial properties
Contact management
Expense management
Insurance management
Maintenance management
Payment processing
Portfolio management
Lease Management Software Module
Landlord database
Residential leases
Property management
Contact management
Billing and invoicing
Vendors, Maintenance and Inspection Module
Manage the amenities to Inspect
Manage Tickets (Work Requests)
Paperless Office / Lower operating costs
Sales Management Module
Quotations, reservations and contracts management
Dynamic contracts and SPA generation
Flexible payment plan creation
Interest charges / penalties calculations
Sales transfer process
Charges/penalties Management Module
Financial management
Operation budget management
Revenue and expense recognition
Financial data import flexibility
Asset Management Module
Asset listing
Virtualization
Fixed asset management
Asset data updates and reports
Purchasing & Inventory Management
Purchase order management
Inventory items controls
Issue, receipt and returns management
Auditing and reports
Approval management
Don't know which real estate CMR software module fits your business needs? Don't worry. Get in touch with our technical expert, who will comprehend your business and guide you further.
Contact us If You Want to
Manage Sales and Lease Processing Efficiently

Our mobile and web-based software solution helps your real estate business to manage sales pipeline, monitor the starting and ending dates of lease, and other related activities. We develop custom software solution from scratch, helping your real estate enterprise and startup to set rules that automatically trigger such as reminders and escalations to make sure that timely actions are taken.
Safe and Secure Data Management

Whether it is commercial or residential property for leasing or renting, it involves a lot of paperwork and requires the constant attention of the team. The traditional process doesn't guarantee convenience, accessibility and security of data. We develop custom mobile and web-based software solution that safely store and retrieve information when required. In addition, you can save resources and get complete control over the different processes.
Employee Management

Being an admin of the real-estate enterprise or company, you might know the pain of managing a workforce and the entire team. We develop custom real estate management software solution that manages your entire team at one single platform, giving you the in-detail report, constant updates, work status and performance management of all employees. Even, the team can also get benefit by making sure that there is no duplicity of work, scheduling meetings, and task reminders.
Manage Payments With Clicks

Maintain and run payment schedules without any hassle through our custom real estate software solution that allows you to maintain and map all the information related to properties. At one single platform, the information related to the renewal of the lease, lease termination and paperwork can be easily maintained. From managing commission of agents to making payments, manage everything with just a few clicks on the screen.
Do you want to know which type of real estate agency software help your business to expand? Talk to our real estate app development team, which will discuss the benefits in detail with you.
Development Process We Follow
Know Your Real Estate Business and Requirements
Before we start designing and developing the best real estate CRM software for your real estate enterprise or company, our business representative team communicates with you to know your real estate business, daily operations, and its current process. Our team knows the type of solution you need for your business so that the team can make a concrete plan and strategies for your real estate software solution.
Making Wireframes for Your Solution
Once we comprehend your real estate company's daily operations and the type of software solution you want, our business analyst team starts making wireframes of your mobile or web-based software solution. The wireframes will give you a complete idea about each module, features, functionalities, and workflow of the solution.
Identifying Technology For Your Real Estate Software
After finalizing wireframes, our technical expert identifies the right and latest technology for your real estate software solution to make it as easy as possible for your employees, customers, and other business partners to access. We will identify the current and latest technologies, making your solution updated with market trends.
Designing Your Software Solution
It's time to design your visualized real-estate software solution. Our designing team knows the importance of designing the perfect software solution for your real estate company. So, our team knows your preferences like colours, typography, and fonts to design your solution as you want.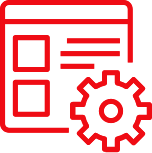 Developing Your Solution
After designing your solution with your desired colours, typography, and other preferences, our development team starts developing your solution with discussed modules, features and functionalities. Our team develops one such real estate solution that automates the daily operations of your company.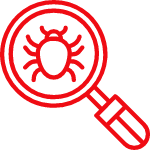 Time to Test Your Developed Solution
We know that testing is the most important step of the process because a single bug in your solution can make you suffer. So, our quality analyst team checks every single bug that your software might have to make it run smoothly.
Deploying Your Solution to Server
Here comes the final stage of the process. Once developed, our team will deploy your developed real estate software solution to your server and make it available for your end-users. At this stage, our team will handle the entire deployment process without asking you for your participation.
Why Choose Space-O Technologies as Your Real Estate Software Development Partner?
We comprehend your real estate business and its goals & visions that you want to achieve. So, we design and develop such custom real estate software solution for your company that automates the daily process, increase employee productivity, and manage sales and lease processing at one single platform. Here are some of the reasons why Space-O Technologies over other companies:
Clean and Efficient Coding
We are dedicated to providing clean and efficient code for your software solution or app requirements.
Single Point of Contact
We will assign one point of contact to you, allowing you to communicate with him/her regarding your requirements.
Proper Documentation
Get documentation of how your app or software users need to integrate the SDK, a sample app with the code, simple to use methods and clear description on how to handle error conditions.
Flexible hiring models
We do have different hiring models, including hourly, fixed, dedicated and on-site team. We will suggest the one that meets your needs.
100% transparency
We will maintain 100% transparency throughout the project and keep updating you about the project progress.
Technical support
We provide 3-month technical support, so if you face any issue or bug in the app or software solution, our team will be there to assist you.
I was mostly happy with the high level of experience and professionalism of the various teams that worked on my project. Not only they clearly understood my exact technical requirements but even suggested better ways in doing them. The Communication tools that were used were excellent and easy. And finally and most importantly, the interaction, follow up and support from the top management was great. Space-O not delivered a high quality product but exceeded my expectations! I would definitely hire them again for future jobs!
I am really pleased with the prompt responses I got from Space-O. Inquiries were answered within a very short time and issues were fixed within 12 hours. The Space-O team kept open communication at every stage of the process. Working with them felt like a collaboration resulting in the creation of a platform we are more stan satisfied with. The team took our concept and successfully create the platform we have today. Rakesh and his team really have the clients vision as a priority.