AI Development Services
Smarter Businesses With Artificial Intelligence-based Software
Artificial Intelligence is remodelling the way we consume content, handle daily operations, address customer grievances or make business decisions. From simple artificial intelligence solutions like chatbots to more complex virtual voice assistants like Siri and Alexa, there is some AI solution for every problem. With Space-O as your AI development company, smarter analytics is just an algorithm away.
At Space-O, we provide AI solutions for a number of industries ranging from education to banking and finance. Our AI engineers and developers have expertise in machine learning, deep learning, natural language processing, and other top technologies to expand your business with smart data. So if you are looking for artificial intelligence-based solutions or software to boost your business intelligently, then we will help you with our experience and knowledge to answer how to build an artificial intelligence app.
Solutions We Can Create Using Artificial Intelligence
Financial fraud detection and prevention software
AI chatbots for customer service
Smart, virtual assistants
Facial recognition solution
Inventory optimization for warehouses, offline or online stores
Smart records in healthcare
Disease detection with image processing
Automated responders and online customer support
Sales and business prediction software
Dynamic price optimization or MAP monitoring software
Image and pattern recognition
Social semantics and sentiment analysis
Hire AI Developers With Expertise In Following AI Services
Machine Learning
Do you have a lot of data to process? Need it to be done efficiently and in a short time? Using machine learning algorithms, businesses can identify patterns and behavior from large volumes of data. Your business can leverage machine learning to scale up your business and its success.
At Space-O, we can develop artificial intelligence software solutions, integrated with machine learning algorithms that can help you interpret simple or complex data easily. Some of the industries that have started relying heavily on machine learning for handling their data are healthcare, finance, transportation, agriculture, and retail. We develop solutions that help:
Businesses to make informed decisions
Automate business process and daily errands
Boost productivity
Discovering trends
Identifying patterns
Natural language processing
Natural language is the language spoken or written by humans. We speak to each other more than we write and because of the importance of this type of communication, it is imperative that we have a software to help us with it. Natural language processing is the communication between humans and machines, which takes place by programming the machines to understand and analyze the human language. With such artificial intelligence software, you can analyze and evaluate structured as well as unstructured data with ease.
Our developers at Space-O combine AI, machine learning and linguistics to create NLP solutions that provide machines with the ability to evaluate and understand human language. NLP tools and solutions can be used by your company to analyze emails, calls, social media, videos, and reviews. All the data processed can then later be used to reveal insights that can be used for making better decisions. Some of the benefits that businesses can get are:
Data procurement
Analyzing and inspecting data
Facts extraction
Improve question response systems
Deep learning
Often your company might not have structured data to create machine learning algorithms that can understand data with precision. To go through unstructured information, one might need human help to evaluate the data.
With deep learning in AI development, your computer can mimic the human brain and evaluate the unstructured data. The software will study the past data, understand the connections between them, see the results and then give out predictions. With a response just like humans, it becomes easier for companies to make sense of unstructured data and make intelligent predictions.
At Space-O, we have skilled developers who can build deep learning applications with artificial intelligence technology. We develop mobile and web-based solutions using deep learning that help medicine, finance and marketing businesses in:
Decision making
Detect fraud or money laundering
Extract relevant information
Improve all sorts of key processes
Business intelligence
If you are running a business then business intelligence is the best-suited artificial intelligence software for you. It is a combination of software, services and algorithms that will help you convert raw data into actionable intelligence and knowledge. It combines business analytics, data mining, data visualization and other tools to help your organization make data-driven decisions.
With Space-O's business intelligence software applications, you can easily identify different ways to increase the profit of your business by analyzing customer behaviour. We can develop an online platform using business intelligence that helps in:
Tracking performance
Trend Analysis
Generate financial reports
Predict customers and success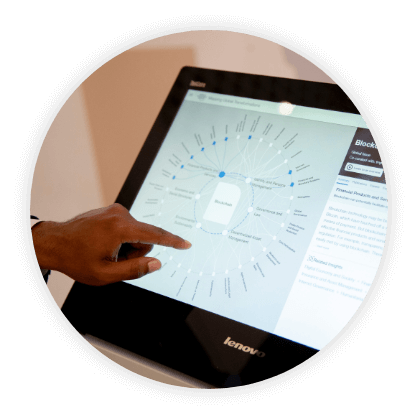 Neural network
In short, artificial neural networks work just like the human brain. They are usually a combination of multiple algorithms that help them learn without being programmed with task-specific rules. The network can generate the best possible results without having to change the output criteria even when there is new data input.
Neural networks are used in artificial intelligence applications for financial operations, trading, business analytics, production maintenance, and other functions such as forecasting and marketing research solutions. At Space-O, our AI engineers can help you create artificial neural networks that can lead your business to increased efficiency and profit. In fact, we can develop mobile and web-based solutions using Neural network technology that benefits in:
Regenerating big amount of data
Perform multiple tasks in parallel
Make quick and wise decisions
Easily find shortcuts to reach expensive solutions
Sentiment analysis
Sentiment analysis, or emotion AI, is used to analyze the emotions or sentiments that are projected by customers for your organization. The data for analyzing the sentiments is taken from a number of places such as customer reviews, social media, other online posts, surveys and other relevant sources.
The artificial intelligence application integrated with sentiment analysis can then automatically identify positive, negative and neutral opinions from the text. This will help your enterprise gauge the public's opinion about you and your company.
At Space-O, we can create an artificial intelligence software with sentiment analysis to help you understand your value, get better insights and understand what you're doing wrong in order to make the best decisions for your business's growth. Our developers develop advanced solutions using sentiment analysis technology that helps in:
Conduct nuanced market research
Monitor brand and product reputation
Under customer experiences
Ability to extract insights from social data
Do you want to make use of our artificial intelligence services for making better decisions in your company? Connect with us now and get a 30-minute free consultation today.
Our App Development Process Using Artificial Intelligence
Gathering requirements and defining problems
Consultation and strategy
Developing AI models and algorithms
AI application integration and deployment
We Can Create Artificial Intelligence Software For
Healthcare
Artificial intelligence and numerous AI solutions have been invented and used in the healthcare sector. It helps simplify the lives of the patients, doctors, and hospital administrators. We can now perform tasks with AI in healthcare that were typically performed by humans by in lesser time and a fraction of the cost. Our developed AI solutions or software helps healthcare industry in:
Healthcare system analysis
Health monitoring
Predicting health issues and advanced diseases like Cancer
Medication management
Virtual nurses
Digital consultation
Managing medical records and other data
Surgery performed by robots
Telediagnosis
Cloud-based digital drug discovery
Intelligent emergency triage
Banking and finance
The rise of security threats online has affected the banking sector severely. To increase security, banks have been working twice as hard to keep it in check. Artificial intelligence in finance and banking is used to help digitization and increased security. Here are some of the ways in which AI in finance and banking is used:
Fraud detection
Credit risk assessment
Threat prevention
Digitization of the corporations
Answer customer queries
Prediction of future outcomes and trends
Improved trading
Automate processes
Personalized banking experience
Retail
If you are in the retail sector, artificial intelligence is your new best friend. From intelligent chatbots to personalized recommendations, artificial intelligence helps customers make better choices and get exactly what they want.
Robotic/digital assistants
Chatbots
Recommendation engines
Behavioral analytics
Virtual trial rooms
Minimum advertised price (MAP) monitoring
Digital assistance
Digital racks
Logistics and transport
One of the most dreaded things for people in big cities is trying to find a parking spot. Guess what? AI can help with that too. Here are some other ways in which artificial intelligence in logistics and transport is changing things:
Automated warehousing
Autonomous vehicles
Smart road technology
Self-driving cars
Vehicle telematics
Last mile delivery assist
Cognitive automation
Demand prediction and back office assistance
Quickest delivery route suggestions
Sports
With artificial intelligence in sports, it becomes easier to gauge performance, get analytics in real-time, and help coaches make better strategic decisions. Players are able to make better choices and technology is paving the path to victory for many sports persons both inside and outside the stadium.
Training and performance analysis
Real-time analytics of the play
Maintaining player's health and fitness
Helping coaches make better strategic decisions
Scouting and recruitment by judging players' potential
For maximizing broadcasting and advertising efforts
Game tactics predictions
Tourism
Many AI-based chatbots offer assistance to travelers on a daily basis. The tourism industry can really benefit from artificial intelligence by providing them with better services and offers the following:
Travel assistance
Virtual check-in and check-out
Facial recognition for access to rooms, shows or tours
Predictive analysis for personalized services and offers
Recommendation engines'
MAP monitoring
Data processing and data analytics
Sentiment analysis
Insurance
Artificial intelligence in insurance is mostly used for customer services via chatbots, for identifying possible new products and trends through customers' data. You can also use it for automating mundane tasks and fraud detection. Here are some other benefits that an AI solution delivers to the insurance industry:
Identify new business opportunities
Identify new products and market trends
Customer data analysis
Automate simple tasks
Fraud detection
Risk analysis for potential customers
Education
With artificial intelligence in the education sector, it will become possible to customize education for every student as per their needs and adapt it according to their capabilities.
AI tutors for extra help
AI-driven programs to provide feedback to both students and educations
AI-enabled hyper-personalization
Voice assistants for studying at home
Assistance for organizational tasks
Help in assigning homework
Automate basic activities like grading, checking homework
Receive feedback from students
Looking to make use of artificial intelligence in your industry? Share your requirements with us and we will help you take it further.
Why Choose Space-O For Artificial Intelligence Application Development?
Nondisclosure agreement
Talented team of developers
Agile AI development methodology

Clean and efficient coding
Proper documentation
Total technical support
Technology Stack
Our AI engineers have expertise in several languages, databases, and open-source platforms. Their knowledge and experience of working with various technologies help us to develop AI software solutions as per your requirements.
I was mostly happy with the high level of experience and professionalism of the various teams that worked on my project. Not only they clearly understood my exact technical requirements but even suggested better ways in doing them. The Communication tools that were used were excellent and easy. And finally and most importantly, the interaction, follow up and support from the top management was great. Space-O not delivered a high quality product but exceeded my expectations! I would definitely hire them again for future jobs!
I am really pleased with the prompt responses I got from Space-O. Inquiries were answered within a very short time and issues were fixed within 12 hours. The Space-O team kept open communication at every stage of the process. Working with them felt like a collaboration resulting in the creation of a platform we are more stan satisfied with. The team took our concept and successfully create the platform we have today. Rakesh and his team really have the clients vision as a priority.