How to Make a Food Delivery App like GrubHub and Postmates? (Features + Estimated Cost + Tips + Best Food Delivery Apps 2020)
Are you wondering about food delivery app development but not sure if and how should you go about it? You have found the perfect blog. We had a discussion with our food delivery app expert having developed over 40 food delivery apps. We have summed up our conversation in this blog. You will find answers to all your how's, why's, when's, what if's- right here!
First, we eat, then we do everything else. – MKF Fisher
No matter how busy someone is, they shouldn't skip a meal because of it. Uber for food delivery apps, either freelancers or associated with restaurants, let customers order food online, making sure they don't miss meals, especially when they're too busy to cook.
On demand food delivery apps are not famous for no reason, they deserve this limelight. Apps like GrubHub, SkipTheDishes JustEat, Seamless, Postmates, DoorDash, FlashFood, and others have disrupted the food and restaurant industry, in a good way. These offer a wide variety of restaurants, cuisines, and payment methods to choose from. Whether one is too lazy to go out and buy or too busy to cook, they can opt for ordering food online.
Now, if you're still wondering why you should invest in a food delivery app development, read the next few passages and clear all your doubts.
Why invest in food delivery app development?
People don't have time to go to restaurants. Yet, the restaurant industry is booming. How? Well, they have developed apps that deliver food, right at the customer's doorstep. People are enjoying delicious meals in the comfort of their homes, without having to dress up and go to restaurants.
Millennials, on the other hand, wish to explore different cuisines and restaurants. They love fast service and online food delivery apps provide just that. By investing in food delivery app development, you will get a wide potential customer base ranging from millennials, office goers and families with small kids.
In fact, GrubHub claimed to have around19.9 million active users and115,000 associated restaurants in Q1 2019. While SkipTheDishes is the most prominent food delivery app in Canada having associated with over 16000 restaurants.
These are not empty words, you may take a look at how the online food delivery segment has fared in the market globally.
Market Statistics
According to statista.com, in 2019, revenue in the Online Food Delivery segment amounts to US$107,438 million.

This is expected to show a growth rate of 9.9% per year, resulting in a market volume of US$156,819 million by 2023.

Of the total online food delivery revenue, the Platform-to-Consumer Delivery segment has the largest part with a market volume of US$53,786 million in 2019.

This is expected to increase to US$82,176 million by 2023.

While the

Restaurant-to-Consumer Delivery segment amounts to US$53,652 million, expected to increase to US$74,643m by 2023.
Food Delivery App Structure
It is essential to know that there is not just a single app, in fact, there are 3 apps with different functionality and features to make the food delivery process seamless.
Customer app

: The customer app is the one that will be installed by your customer base. This app should be user-friendly and help them compare different restaurants and offers.

Restaurant app/Admin Panel

: A restaurant owner controls and manages the delivery orders with this web-based platform.

Delivery driver app

: The delivery personnel manage pick-up and drop-off of orders with this app.
Key Features of Food Delivery apps like GrubHub and SkipTheDishes
Ingredients for customer app
Search:

The customers should be able to search and compare different restaurants, offers, cuisines with food ordering app. They should be able to search by location, cuisine, price, ratings, review, restaurant names as per their convenience.

Order

: Ordering food with uber for food apps must be easy. This feature should enable customers to add and remove items from the cart. They should also be able to cancel or reorder as and when they wish.

Favourites

: The customers should be allowed to mark and save their favourite dishes and eateries so that they don't have to search all over again. This makes reordering or ordering something previously out of stock very easy.

Real-time tracking

: Using GPS navigation or tracking system integrated into the app, customers should be able to keep a track of their order, from order preparation to shipment and delivery at the doorstep.

Coupons

: All top food delivery apps have this feature to attract and retain a loyal customer base. Customers prefer to save money with discounts and that why, this feature is a must in your food delivery app development.

In app chat:

Customers might have some tips or queries/disputes that they need to discuss with the delivery personnel. This is why it is necessary to have contact details of the driver as well as in-app chat option in an app to deliver food.

Payment

: While developing an online food ordering system, making payments easy, fast and secure is really important. You could have integrated payment gateways like cards, e-wallets, net banking or COD as an option to pay bills.
Some Recommended Features
Our food delivery app developers recommend these features for the customer app:
Schedule delivery:

This unique feature is from the Postmates app. The customers can schedule their delivery as per their convenience. They may order their dinner to be delivered at 7:00 pm while they are in their office at 2 pm.

Pick up:

Pick-up option is fairly common in most Uber like apps for food delivery. This feature waives off the delivery fee and the customer can order online and then pick up the food by himself.

Dine-in:

Dine-in was recently introduced by the UberEats app. With this feature, a customer can order online, skip the waiting lines, delivery fees and come to sit in the restaurant and eat.
Ingredients for restaurant app/admin panel
Manage content/details

: The restaurant owners need to manage the name, contact, address of their restaurants. They also need to edit pictures, menus, prices, offers. The admin panel of a food delivery application handles all this.

Manage orders

: The restaurant receives an order with the details like order location, item name, payment, and time of delivery. The admin then manages orders according to priority and schedules with this feature.

Manage deliveries

: As soon as an order is prepared, it is assigned to the delivery personnel. With this feature, the admin keeps a track of the real-time location of the delivery personnel from the time he leaves from the restaurant until he delivers the order.
Ingredients for drivers app
Registration:

A delivery person should be easily able to register himself with this feature. Signing up using a simple username and password and verifying with Apple, Google or some social media account is considered.

Manage deliveries:

The delivery personnel should receive orders in a timely way. He could then decide which orders to accept, reject or prioritize. Using this feature he can keep a track of all his deliveries.

Status update:

The delivery personnel should receive updates if there are any changes in the order location, the order gets cancelled or any other change. He should be able to update the customer and the admin about pick-up and drop-off of every order.

In-app chat:

This feature is a must as the courier or food delivery person could have queries regarding customer location or tips. A driver app should have an in-app chat option so that he could contact the customer directly.
How Much Does It Cost To Create A Food Delivery App
Every app is unique and the cost to develop each app is different. Features, functionalities, food delivery app development company, platform, time to build and many other factors affect the cost.
To get an estimate of app development cost, you need to apply a simple formula:
Estimated Development Hours * Developer's Hourly Cost = Total Mobile App Development Cost
Food Delivery App Development Cost And Timeline
Here is an estimated timeline that will help you calculate the cost approximately
Deliverables

Estimated Man Hours

Development

Graphics Design

QC/Testing

Project Management

TOTAL

I) Native iOS (iPhone) Application for Customers

162

26

23

16

228

II) Native Android (Smartphone) Application for Customers

162

26

23

16

228

III) Native iOS (iPhone) Application for Delivery Provider

104

14

15

10

143

IV) Native Android (Smartphone) Application for Delivery providers

104

14

15

10

143

V) Web Application for 'Store owners'

161

20

23

16

206

VI) Back End & Web Services Development

174

–

25

17

216

Note: If you provide the graphic design yourself, exclude the estimated hours for it.
Just investing in food delivery app development is not enough. You should also know how you can make the most of it. Here are some tips from our expert business analysts.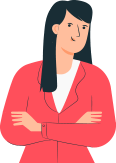 Want to find out how much your food delivery app idea might cost?
Business tips
Restaurant apps: If you already have a restaurant or a cafe and deliver food on-demand via phone calls or website, an app will make the process faster or less cumbersome. In fact, you could convert your online food ordering website into a mobile app or web app.
Market research: You need your app to be an MVP, which means it should be a Minimum Viable Product. This can be assured when you do thorough market research as well as evaluate your own business.
You need to keep an eye on new trends, challenges faced by the industry, and decide which business model is the most suitable for you.
Affordable service and business merging: You could provide cheaper service as compared to food delivery giants as they invest a lot in marketing but you could start with your existing customers and become a food delivery hub in your area then slowly grow out to be the big game. You could also sell it to or merge with a bigger company, which is profitable for both.
Reviews and Ratings: It is advisable to keep the reviews and ratings for the food and delivery services separate. This is because it is possible that the food was great but there were issues with delivery, bringing the entire rating down.
Branching out: You could diversify your services just like Postmates did. It is an Uber model for food, alcohol and grocery delivery. This way, you could make your app like Uber for alcohol delivery and Uber for groceries, all at one platform.
Uniqueness: You need to make sure that your app like GrubHub is not an exact GrubHub clone. It must stand out in the crowd of other food delivery app. You need to find your own USP and make it the best app to order online.
Best food delivery apps in 2020
Name Of The App
Features
Play Store Link
App Store Link
SkipTheDishes

Search filter (even by delivery charge starting from $0)
Real-time tracking
Save addresses for quick service
Re-order favourite items

Tim Hortons

Ordering and re-ordering favourite items
Tims rewards for loyal customers
Customize recipes and save as favourites

DoorDash

Order and group orders are made easily
Schedule delivery according to preferred timings
Real-time tracking of order

Foodora

Search the best restaurants in the town
Choose your favourite dishes
Pick-up or get it delivered
Schedule your order
Navigation and directions

 Little Caesars

Store locator that automatically detects the closest store
"Custom pizza builder" to get tailor-made pizzas
Order scheduling that lets users schedule up to 6 days in advance
Save favourites for quick ordering
#1. SkipTheDishes
SkipTheDishes app was launched in 2012 in Winnipeg, Manitoba, Canada by a pair of brothers- Josh and Chris Simair. It was launched for Canadian cities but later expanded to the US and other countries. It was joined by the third brother in 2014.
In December 2016, SkipTheDishes was acquired by Just Eat for $200M but still functions with the same brand name. Over 16000 restaurants are associated with SkipTheDishes worldwide. Over 2000 employees and delivery executives of this company are working to make it one of the top Canadian food delivery apps. The app has received a total funding of CA$8.5M according to Crunchbase.
Pros
Cons

Easy-payment
Wide variety of restaurants and cuisines to search from

Random time estimates
Inaccurate tracking
Poor customer support
#2. Tim Hortons
Tim Hortons restaurant is a household name in Canada. It was founded in 1964 and has now expanded to more than 4500 locations. They have always served scrumptious doughnuts and coffee since the time of inception. It was 2017 when they decided to go digital with an online food ordering system and restaurant app by the same name. 
The customers can easily order through the Tim Hortons website or mobile iOS and Android apps. They can pay for their orders online with credit cards, debit cards, or have an option of COD. This app has made it easier for the customers to get their favourite coffee and donuts at their convenience. 
Pros
Cons

Safe and secure payment integration
Cut the line in the restaurant or at the drive-thru
Customized recipes

App freezes
Android app is inconvenient to use
Not user-friendly
#3. DoorDash
DoorDash is San Francisco-based on-demand app to deliver food. It was launched in 2013 in San Francisco, California, United States. They now have over 6900 employees and delivery executives that make food delivery as breezy as possible. It has collaborated with over 340,000 selection of stores across the US and Canada.
It is one of the best food delivery apps in Canada serving the cities of Toronto, Vancouver, Winnipeg, Ottawa among others. According to Crunchbase, It has received a total funding of $2.1B. The company is currently worth more than $13 billion and is the largest third-party delivery service in the world, surpassing Grubhub in 2019. 
Pros
Cons

User-friendly
Easy and fast payments
No minimum order limit

Card verification issue
Order cancellation issues
Card scanner feature doesnt work
App freezes
#4. Foodora
This food delivery startup is originally based in Germany and was founded in 2014. It was launched under the name of Volo GmbH in Munich in February 2014. It was relocated to Berlin when Rocket Internet acquired 100% of the company in April 2015. 
Later it expanded into the Candian market by acquiring Hurrier in Toronto. Foodora has now partnered with over 9000 restaurants in several countries globally. It is among the top food delivery apps in Canada and serves in the cities of Calgary, Quebec, Toronto, Vancouver, Edmonton, and Ottawa.
Pros
Cons

Users choose when, where and how to eat
Promo codes

Limited restaurants
Buggy map service
Inaccurate time estimates
#5. Little Caesars
Little Caesars was established in 1959 Garden City, Michigan, United States and is definitely one of the most famous pizza places of all time. The app is on our list because it was launched in 2018 but is already considered among the best food delivery apps. 
Little Caesars has introduced its award-winning Pizza Portal pickup in nearly all Canadian stores. Pizza Portal pickup is the first heated, station in the restaurant industry. This app also has a unique functionality of TouchID/ Fingerprint and FaceID login. This makes the app much more secure to use. 
Pros
Cons

Custom pizzas
Self-service mobile order pickup

Issues while checking out
Errors in location detection
Log-in issues
Want to build an app like SkipTheDishes, Foodora or any other food delivery app?
Frequently asked questions about food delivery app development
How to make a food delivery app?
Here are 6 simple steps to create a successful food delivery app:
1. Carry out complete market research
2. Research about competitors and develop a strategy
3. Decide on which features you want to integrate in your app
4. Hire experienced app developers
5. Deploy your app on app stores
6. Advertise your app at appropriate platforms
How much does it cost to build a food delivery app?
Food delivery app development cost depends on three main factors:
1. Number and complexity of the app features
2. The time taken to integrate features
3. Developer's hourly rate
If the number and complexity of features is more then the cost of food ordering app development will be more. A simple formula can help you with this calculation.
Development time x Cost per hour = Total app development cost
What is the best app for food delivery?
Some of the best food delivery service apps:
DoorDash
GrubHub
Instacart
Postmates
Uber Eats
Little Caesars
Seamless
goPuff
Delivery.com
How does a food delivery app work?
The food delivery app works in 4 simple steps
A customer places a food order from a wide variety of dishes on the menu on your food ordering app.
The order is instantly pushed to your smartphone or tablet where you can review it via the admin app/ restaurant.
The delivery personnel is informed on the delivery app about the pickup and delivery details.
After the food is prepared, it is the delivery picks it up and delivers to the concerned customer.
Delivering the app!
During food delivery app development, it is necessary that you know which market niche do you want to target, what challenges you will face, and how do you plan to face them.
A food delivery app should provide freedom of choice to the consumer, it should fit into the consumer's schedule, should be user-friendly and work excellently for restaurant owners.
If you need an app that lives up to all and much more, Space-O will come to your aid. We are an eminent mobile app development company in Canada. We have developed over 40 uber for delivery apps and over 3500 apps in various categories. We have developed apps for iOS, Android and Web platforms. We specialize in developing mobile and web-based IT solutions for the food and beverage industry.
If you have any doubts or queries about food delivery software, food delivery logistics, on demand delivery apps, restaurant app developers, food ordering app for restaurants, feel free to contact us.
You could also choose to consult our technical expert about food delivery app development cost, timeline and process. You could get a 30-min free consultation by just filling the contact form below.
You might also like:

Food Delivery App Development: Embrace These 5 Features of SkipTheDishes While Developing an App for Food Delivery Business

Avoid These 3 Simple Mistakes While Choosing an Online Food Ordering System for your Restaurant Business
This page was last edited on February 25th, 2020, at 11:41.