Provided Services UI/UX Design, App Development, QA
Platforms iOS
Year 2017 – 2018
gIsPy Peer-to-Peer Ride Sharing App
This ride sharing app connects drivers with riders. It also gives riders ride options to share their ride with others and share some income with the driver.
Project Idea
gIsPy – ride sharing app service is like Uber and Lyft. It allows peer-to-peer ride-hailing and connects drivers to the potential riders. It has a unique feature in the form of a private/sharing ride option. The transport app development allows riders to earn a certain amount of disposable income during their commute journeys if they opt for a ride sharing option.
Target Audience
The ride-sharing application targets regular people who need a ride to reach their office, finish household chores, and any other miscellaneous work which is done faster than catching and changing any other mode of public transport. It also helps people with bulky items, old adults, and parents or guardians with kids, minors traveling alone.
Project Challenges
To be among the best ride sharing apps, our client needed an online transportation business model different from Uber-like apps.
To build a sophisticated ride sharing service we had to curate filters for ride options like private/ sharing with extensive algorithms to protect the individual's identity as well as validate their "call to action" in the online transport platform.
To generate an automatic request for preferred riders in the same vicinity was a complex functionality of this app.
Seamless functionality of the offline driver validation feature on the online ride-sharing platform.
Results
Our client received scalable and flexible rideshare software that includes GPS tracking technology, payment system, and other custom features that makes the app user-friendly. Our developed taxi app solution has automated daily operations like bookings, payments, managing daily work reports, salaries & commissions, ratings and reviews for a specific task from the client.
Abstract
Based in Virginia, the USA, our client wanted to develop an on-demand taxi app like Uber that allows people in Virginia to book a cab from one place to another with just a few clicks on the screen. Considering his requirements, we designed and developed ride sharing app that made it easy for Virginia people to book a ride anytime and anywhere.
This online taxi app solution comes with the most unique concept of ride-sharing, so people who are daily driving from the same route for their office or any other work can share their availability in the driver's app and take rides of the same route. For example, if one user is daily going from point A to point B route and he wants to share his ride with another person, who is also going in the same direction, he can share his availability in the app.
Moreover, this custom taxi app solution is completely safe and secure as it performs intensive background checks on drivers before they drive for this taxi app solution. To run background checks, this cab booking app uses a third-party company to ensure that drivers are meeting the state and national safety standards and protecting both of their drivers and riders.
Car Sharing App Features
Features we have integrated into this car sharing app solution.
Sign-up
The rider's app has an easy-to-follow sign-up process, allowing riders to sign-up in the app easily. By following a step-by-step process, riders can fill the required information to register in the app successfully.
Track a ride
After booking a ride, the rider can track the driver and know his whereabouts and estimated arrival time through tracking technologies. The rider can constantly track the driver and check his real-time location.
Preferred driver
Another useful feature in the rider's app is the preferred driver that allows riders to mark any driver as preferred one so that next time, the request goes to the preferred driver if he is in the same vicinity.
Schedule a ride
Using this feature in the Uber-like app for riders, riders can schedule a trip as per their preferred time and date. They can schedule the ride in advance so that they don't have to wait in the middle of the road and call a taxi.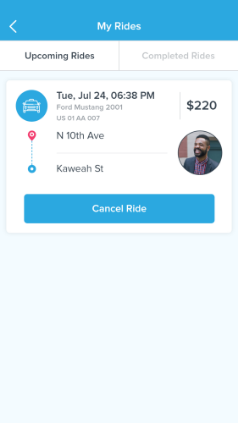 SOS functionality
The taxi booking app for riders comes with an SOS functionality, allowing riders to add up to 5 contacts so that they can activate it in case of an emergency. The added contacts will get a text message with the rider's location.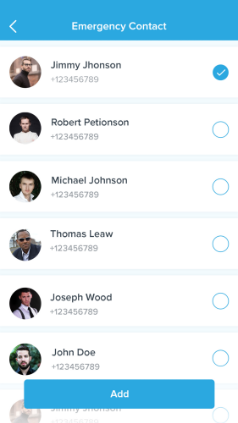 Accept or reject request
The driver's app has a feature of accepting or rejecting a request, allowing drivers to accept and reject requests as per their availability and convenience. With just a single click, drivers can accept or reject the request; however, they need to ensure that they don't reject requests constantly.
Trip history
Drivers can check and manage trip history where they can also use it to check their completed, ongoing, and canceled trips with complete details like pick-up & drop-off location, total received amount, payment mode, and reviews and ratings, fare price.
Route selection
There are two different options in the cab drivers app including Google Maps and Waze Map. From both the suggested routes, the driver can choose the best and shortest route suggested by these options and avoid traffic jams and be at the pickup location at the specified time.
SOS contacts
The ride-sharing app for drivers comes with SOS contacts feature, allowing drivers to save up to 5 contact numbers as emergency contacts. In case of emergency, they can activate SOS functionality and the added contacts will receive a text with the driver's current location.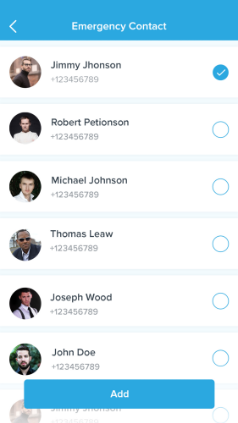 Rating and review
The driver app has a rating and review feature, allowing drivers to check their received ratings and reviews from riders. It also offers drivers to give comments, ratings, and share their reviews for riders.
My Earnings
The taxi drivers can manage their total earnings by week, month, and year. He can track earnings that he has earned, whether it is through cash, card, and net banking. In fact, he can also track total performed jobs in a particular month.
Manage all the users
The admin of the business can manage all the users, be it riders or drivers. The admin can manage all the users with their information like name, contact number, bank details, and other details. In fact, the admin can manage all the blocked and unblocked riders and drivers also.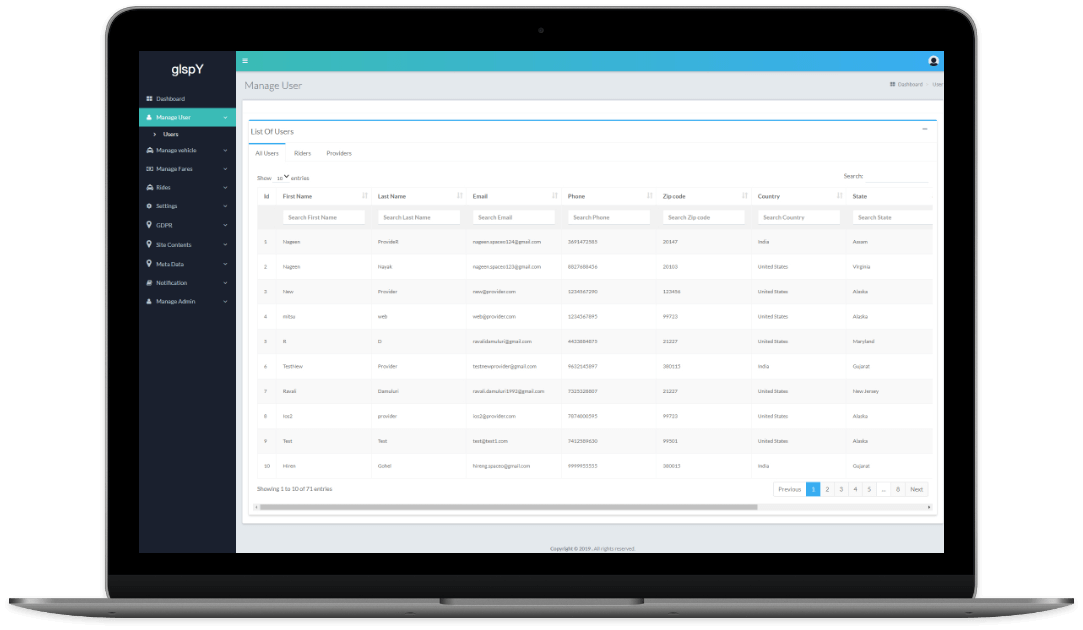 View heat map
The admin of the business can check the heat map in the admin panel and know all the taxis and areas, where the demand for rides is high. The admin can check demand-based areas on a regular basis and can target specific areas.
Generate reports
Using this feature in the admin panel, the admin can create a complete report on the total rides, riders, drivers, and the total number of trips so far. The admin will get complete trip statistics for any defined period of time through an email.
View total earnings
The admin checks and manages total earnings of the business by week, month, quarter and creates a complete report on it. The admin can generate reports on the earnings and email them directly from the panel.
Rider's App
Driver's App
Admin panel
Do you want to know how ride-sharing app development can benefit your taxi business? Get in touch
Colors & Fonts Guide
We have used clean and minimalistic UI design with bright accent colors to make it look intuitive.
Logo
Designing the Ride Sharing App
When it came to designing such a sharing and carpooling app, we designed it keeping certain criteria in mind.
User-friendly navigationWhen it comes to a transport app, it is very essential to create intuitive functionality. The people booking cabs are always in a hustle of reaching somewhere, so we had to keep the features seamlessly integrated with each other so that they can navigate easily in the app.
Simple user interfaceTo develop commute apps Lyft, Curb, Juno, we had to design a simple UI that can clearly state each and every feature and in-app navigational directions. So, we decided to design the most minimalistic and simpler app design.
Enhanced user experienceFor better ride sharing services like Uber and Lyft, we decided to enhance user experience with particular features.
Shared/Private rideThis feature allows users with more opportunities online. If they click on a shared ride, they can share car or request a ride with other riders whereas a private ride allows them for a solo trip.
Secure payment modesMultiple payment options that allow riders to pay online through credit card/debit card, e-wallet, or cash. They can choose any mode as per their convenience. There are no chances of surge pricing. Users can easily know the fares cost estimation or money to travel in a particular area or vicinity.
View active ridesThis feature is particularly designed for the admin to check the current status of rides and monitor the business by tracking rides just by a click. As third party providers, it helps to meet the rush hour commutes and seamless transportation system to the passengers.
Manage usersAdmin can create sub-admins to give limited access and can define the rights for sub-admins to manage different things. This also helps in 24 hours of customer support. It helps to stand out as a transportation network company and be among the best ride-sharing apps service providers in the city.
Security of the usersAs a ride service, for better customer service we provided the user's phone number verification via OTP. To generate such functionality a complex algorithm was set in the app and the feature was made accessible by placing the navigational buttons at the right places for the users to book ride-sharing services easily.
glspY Application Screens
Want to know what were the challenges our client faced while developing this ride-sharing app? Read complete case-study and know how we resolved challenges and provided advanced taxi app solutions.
Here Are Similar Portfolios of Rideshare Apps
Our client from Fort Myers, Florida, the US wanted to develop an online taxi booking app or carpool alternative to solve the issues faced by the local commuters or a passenger. This taxi solution is complete with the rider's app, the driver's app, and the admin panel. Riders can book a taxi for commuting, drivers can accept or reject booking requests, and the admin is enabled to handle all the operations with this taxi dispatch software.
Our client is from Georgia, the USA wanted to develop on-demand ride sharing service. Raklux is one such taxi booking app, allowing riders to book an affordable ride in just a few minutes. Riders can request a ride with just a single click on the screen and get picked up by a nearby luxury driver who will drop the rider to the destination without any hassle.