Supply Chain Management System: For A Bigger & Better Business
With increasing buyer's expectations, shorter product lifecycle, and new regulations, the supply chain rules are changing. It becomes harder for enterprises to manage and track supply chain operations like manufacturing, supplying, and distributing. To improve customer experiences, optimize inventory, and reduce delivery time, enterprises are opting for supply chain management software solution.
Being a CEO or CTO of the enterprise, if you want to automize supply chain operations, Space-O Technologies is here to design and develop a mobile and web-based supply chain solutions for your supply chain management. We help companies to enhance accuracy and productivity that enhances the operating efficiency of businesses. We develop SCM software that makes seamless collaboration between the ERP system and the supplier community.
Supply Chain Management Software – Solution & Module We Develop
Procurement Management Solution
Self Service Procurement Solution
Sourcing Cloud
Procurement Contracts
Supplier Qualification Management Cloud
Supplier Portal
Purchasing Cloud
Inventory Management Solution
Product Identification
Reorder Management
Reporting/Analytics
Retail Inventory Management
Supplier Management
Product Lifecycle Management
Innovation Management
Product Development
Quality Management Solution
Project Portfolio Management System
IoT Cloud Applications
Warehouse Management Software
Order Management
Shipping Management
Return Management
Inventory Management
Multi-location
Real-Time Synchronization
Order Management Software Solution
Backorder Management
Catalog Management
Inventory Management
Order Fulfillment
Order Entry
Order Tracking
Shipping Management
Return Management System
Returns Processing System
Real-time Status Tracking
Returned Products Management
Refund Management
Graphical Reports
Logistics Management System
Supplier Management
Transportation Management
Shipping Management
Cross Docking
Fleet Management
Order Management
Forecasting System
Competitor Analysis
Dynamic Modeling
Graphical Data Presentation
Performance Metrics
Statistical Analysis
Correlation Analysis
Do you wish to create a digital solution for your warehouse, transportation, procurement and other critical supply chain activities? Get in touch with our technical expert now and discuss your business supply chain management app requirements.
Supply Chain Management Software Development Process
Understanding Requirements
We believe that communication is the best route to solve all types of business problems. Therefore, our sales representative team first communicates with you. Our team understand your business, its daily process, and operations to come up with the right strategies to execute for your business.
Prepare Wireframes of your Concept
Once we comprehend your requirements, our business analyst team creates a wireframe for each screen, explaining a complete flow of your SCM system. All the features and functionalities will be covered in the wireframes to give a complete idea about your solution.
Selecting The Technology
Depending upon the type of supply chain management software you need, our technical expert team identifies the technologies and tools that will be required to bring the concept to life.
Designing The Concept
Our designing team believes that design adds value faster than it adds costs, and this is the reason our designing team is very serious about the designing part of your SCM software. Our team designs your entire supply chain management software as per preferences like the colour scheme, tonality, typography, shapes, texture and other important things.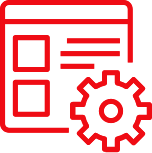 Developing The Concept
At this stage, our development team comes into existence. Our team develops your supply chain management software from scratch, including important features, functionalities and specifications. In fact, our team ensures that each and every feature is developed according to your business requirements and preferences.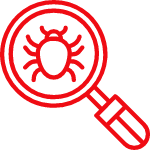 Testing The Concept
Testing is the most important stage, where our quality analyst team looks for bugs and issues that your supply chain management software might have. Our team takes this step extremely seriously and solves every single bug to make it run smoothly on different devices and platforms.
Launching The Concept
This is the final stage of the process. At this stage, we deploy your developed supply chain management software to your server, making it available for employees and admin of your business. In the case of mobile apps, we make it live on the respective app stores, allowing your users to access it.
Manage procurement, inventory, orders, product lifecycle, logistics and returns at one single platform from the comfort of your chair. Get an eagle eye view of all these departments. Just get in touch with us now and discuss your business and its daily process to automate with supply chain management application.
Different Industries We Serve
Transportation
Transportation
Irrespective of the size of your transportation business, we design and develop supply chain management software, making it easier to track sleets, analyze performance reports, and everything in between. Manage day-to-day operations of your transportation business at one platform.
Automobile
Automobile
Look no more! We provide error-free logistics for your automotive business. Cope with the management of the smallest electronic components to large structural body parts.
E-commerce
E-commerce
Whether you run an online store like Amazon or have a dedicated online store for your eCommerce business, we develop a supply chain management solution from scratch. We make sure that we develop a solution that helps you to track stock, orders, cancellation, and manage payments.
Agriculture / food / beverages
Agriculture / food / beverages
We understand that if you belong to these industries, you often deal with product recalls and managing expiry dates. We develop supply chain management solutions that handle everything from receiving orders to fulfilling orders, shipping management to return management at one cloud-based platform.
Did not find your industry in these mentioned industries? No worries! We develop custom supply chain management software for every industry out there. Just connect with us and share your day-to-day supply chain problems with us.
Why Choose Space-O Technologies for Supply Chain Management Software Development?
Clean and efficient coding
100% transparency throughout the project
Proper documentation
98% Success Ratio on Upwork & 4.9 on Clutch
Flexible hiring models
Technical support
I was mostly happy with the high level of experience and professionalism of the various teams that worked on my project. Not only they clearly understood my exact technical requirements but even suggested better ways in doing them. The Communication tools that were used were excellent and easy. And finally and most importantly, the interaction, follow up and support from the top management was great. Space-O not delivered a high quality product but exceeded my expectations! I would definitely hire them again for future jobs!
I am really pleased with the prompt responses I got from Space-O. Inquiries were answered within a very short time and issues were fixed within 12 hours. The Space-O team kept open communication at every stage of the process. Working with them felt like a collaboration resulting in the creation of a platform we are more stan satisfied with. The team took our concept and successfully create the platform we have today. Rakesh and his team really have the clients vision as a priority.