Get Meaningful Information From Raw Data
Do you want to build an app that processes a lot of data and predicts the outcome? Are you looking for a way to understand and know your customers' behaviour? Or do you want to solve complex business problems? Implementing the right machine learning solution is the best way.
At Space-O, we have expertise in AI and machine learning solution development. In fact, our developers have already started using machine learning algorithms to develop intelligent and machine learning-based mobile applications. With core ML features, we will integrate the machine learning algorithm and help you turn your mobile app idea into reality.
Solutions We Can Develop Using Machine Learning
Product Recommendations Whenever you watch a movie or order a product online, you keep getting suggestions for similar movies or products. This is done solely by machine Product Recommendationsing solutions. These solutions applied in the eCommerce industry or in content streaming platforms like Netflix to provide better customer services. It is also possible to create recommendation engines that give personalized suggestions and ads to users. They study a person's behaviour and catch their patterns before giving them similar recommendations. This helps increase sales, improves user experience and marketing efforts.
Inventory Optimization With Space-O as your machine learning partner, you don't have to worry about managing the products in the warehouse. We can create software using machine learning services that keep track of your inventory, studies the sales history and tracks consumer behaviour to predict future trends. After predicting future trends in sales, the software can also place an order for more products if it thinks that the sales are going to rise up soon.
Image Processing Image processing includes everything from understanding the elements in an image, scaling images, measuring image sizes, identifying patterns to adding annotations, and enhancing images. The best part is that by using machine learning applications, all of these functions can be carried out for images in bulk, without having a human to supervise the entire process manually.
Social Media Sentiment Analysis In social media sentiment analysis, the machine learning applications will study the data in speech or text and analyze the human sentiments behind the words. By deducing the emotions behind every tweet or post, the software can then derive important conclusions from the same. This helps you understand your consumers and their intent. The process helps classify queries and leads to faster customer services.

Object Recognition Remember the phrase about glass half full and half empty? With object recognition, the computer will give you the correct answer. Machine learning solutions can be trained to scan images or visual data and recognize elements from the same. This information can be used for the classification of data or to research more data. It can be used by smart search engines for image search, by eCommerce sites to search for products, to copy text from the images or for medical diagnosis.

Clinical AI What if a software could detect cancerous cells or malignant tumours? AI and machine learning services are an important aid in the medical sector. Using smart software, several areas of patient diagnosis can be improved or automated to a great extent. It can help doctors maintain smart health records, detect diseases and carry out a diagnosis with image processing. It can also be a helpful aid in carrying out research for drug discovery, clinical trials and other medical research.
Trend Prediction And Analysis Another interesting machine learning solution, trend prediction and analysis could help in various industries. It can be used for predicting stock prices, which would be very helpful for market analysts and stock-brokers. With trend prediction, it can also be used for sales forecasting or for predicting the demand for a particular product. It could be very useful in the real estate industry because it will help predict housing prices; people looking for buying or selling property could make use of it and get the best deals.
Virtual Personal Assistants An increasing number of Internet users are trying out virtual assistants and AI chatbots for everyday tasks. With Siri, Google Home and Alexa, it becomes easier for users to carry out tasks and manage their day better. Machine learning is an important part of these bots and assistants. These types of software collect and refine the data from the conversations as per the previous interactions.
Traffic Predictions When using Google Maps, you might have noticed that data about all your travels are being saved in the cloud. Not just the route but also the time taken for you to reach your destination. Machine learning helps in understanding how many people are travelling on a particular route and then predicts peak traffic times. It can help avoid congestion by diverting people via another route.
Search Engine Result Refining Ever tried to search for the name of a movie with just one dialogue of the film? Google mostly gets it right. Wondering how? Machine learning to the rescue! With every search, the machine learning algorithm keeps learning and observing your actions. Later, it uses this information to help users and help you better in finding whatever you are looking for. This helps the search engines provide refined and accurate results to the end-users.
Online Fraud Detection Machine learning helps track any out-of-place transactions or actions online. A solution called anomaly detection very useful for fraud detection. It helps track any fraudulent behaviour for banking, finance and insurance sectors. It can also help predict future fraudulent behaviour by studying past data and factors associated with them.
Transportation Networks When you are booking a cab using taxi apps like Uber or Lyft, the app automatically calculates the estimated cost and time of travelling. Ever wondered how that happens? It works with the help of machine learning. All the data of each drive or ride is stored on the cloud and machine learning is used to categorize it in a way that helps in calculating the estimated time and cost for each ride.
Email And Malware Filtering There are already many email spam and malware filtering software available in the market. However, a majority of these follow the rule-based filtering approach. Due to this, it is possible to miss out on the latest tricks adopted by spammers. Multi-layer perceptron and C4.5 decision tree algorithm are some of the machine learning techniques that can be used for spam filtering. Malware usually matches 90-98% of the code with the previous version. To detect this, system security programs powered by machine learning understand the code and classify the same. It helps detect minor variations in the code very easily and prevent any security threats caused by malware.

Content Feed Moderation The People You May Know section is pretty common on most social media platforms. There is also a section for content that you may like on image-based platforms such as Pinterest and Instagram. All of this also works on the basis of machine learning. Users love looking at content that is relevant to them but a lot of content is posted online every day. To decide which content is more relevant and relatable to an individual, the algorithm of these social media platforms studies the past behaviour, liked posts, saved posts and other data and then suggests new content as per the same.
Want to build any similar or enhanced feature to grow your business? Get in touch with our machine learning experts and discuss your requirements.
What Else You Can Do With Machine Learning
The developments in Machine Learning (a branch of Artificial Intelligence) as a service has made it easier for computers to understand images, text, and real-world data. Machine learning solutions learn by examples, just like us.
We use machine learning to develop advanced solutions to solve a broader range of problems. Our developed machine learning apps and software solution can help you identify images, understand and convert text or language, separate using data from raw data and a lot more. This is what you can do with the machine learning technology.
Helps improve marketing efforts
Assists in sales forecasting
Generates customer lifetime value prediction
Eliminates manual data entry
Detects spam and malware
Financial analysis
Image recognition
Medical diagnosis
Improved cyber security
Improved customer satisfaction
Recommends the right products
Increases efficiency and saves time
We Build Machine Learning Solutions For
Machine learning helps extract meaningful information from raw data and sort it in an easy-to-understand manner. The good thing is that it can be applied in any industry and many companies have been making use of the technology for growing their business. Here are some of the industries that have been making use of machine learning in mobile apps and web applications.
Machine Learning In Fintech (Finance & Banking)
Banks and other businesses in the financial industry make use of machine learning to understand important insights and to heighten the security. We have developed various machine learning software for our clients in the finance sector like the following:
Detecting fraud
Portfolio management
Sentiment analysis
Customer service
Machine Learning Applications In Healthcare
Owing to the advent of wearable devices and other sensors, machine learning is a fast-growing technology in healthcare. The technology helps identify problems and improves the diagnosis process. At Space-O, we can develop the following machine learning applications in healthcare:
Diseases diagnosis
Drug discovery
Clinical trials and research
Smart health records
Machine Learning In Education
With machine learning in the education sector, it becomes easier for teachers to assess answer papers and homework. It also gives a predictive analysis for the students too. We can create intuitive and easy to use applications using machine learning for the schools or universities.
Predictive analysis
Personalized learning
Adaptive learning
Assessment
eCommerce Machine Learning
With machine learning, eCommerce websites can increase their sales more easily by analyzing user behaviour, predicting trends and giving customized advertisements. We can help you with the following machine learning software:
Price optimization
Customer sentiment analysis
Product recommendation
Inventory management
Machine Learning In Travel And Tourism
If you have a business in travel and tourism sector, machine learning will be useful in solving customer grievances and in providing better support. Our developers are able to develop the following software using machine learning for travel and tourism:
Prediction system
Recommendation systems
Sales optimization
Customer support
Machine Learning In Government Agencies
With so much data in their database, the government can make great use of machine learning applications. It will be useful in enhancing the security of the country, make work easier and faster and increase productivity with the help of machine learning software.
Counterterrorism
Streamline processes
Predictive maintenance
Cybersecurity
Machine Learning In Marketing
If you are in the marketing industry, you will benefit a lot with the help of machine learning. For better marketing with better insights and analysis, we can develop machine learning software for you.
Sentiment analysis
Improved audience insights
Content optimization
Reduce marketing waste
Machine Learning In Human Resources
It's easier to let a chatbot handle simple queries and complaints of the employees, isn't it? In human resources, machine learning has been changing the way things function and you can benefit from the same too.
Attrition detection
Performance development
Attracting talent
Enterprise management
Machine Learning App Development Process We Follow At Space-O
Project discussion & analysis
First, we discuss your requirements and understand your work processes. This helps us understand the problems you are hoping to solve with our machine learning services. We do this to understand where ML can help you improve business, deciding how and what kind of model and algorithm should be created for the same.
Data collection & exploration
Be it labeled or unlabeled, the one thing that machine learning solutions definitely need is data. If you have the data that we need to train the model then we will collect from you. We will explore the data to understand it and check patterns and correlations. If you don't have the data then we will guide you on how to collect the same and will then process it for development.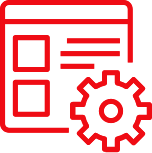 Data preparation
By using machine learning algorithms, our machine learning analysts transform the data to ensure that only genuine and relevant data is left for our use. Our developers then build machine learning models and train them with the data. We run training algorithms across different datasets, including structured and unstructured data.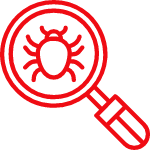 Prediction & testing
Finally, it is time to test the machine learning model that we have created. Our data analyst experts will make the test mode by feeding it data that hasn't been used previously. Our machine learning experts and programmers will then evaluate the results generated by the model. If the results are not up to the mark, then we will fine-tune until we get accurate results.
Deployment
Our machine learning programmers will finally wrap up the whole project. We will show you the data, data preparation as well as the machine learning models we've created for your organization. Then, we will take your approval for the project and prepare the software for deployment.
Why You Should Choose Space-O For Machine Learning Development?
30-minutes free consultation with our machine learning consultant to understand your requirements and check the feasibility of the project.
3-month support post-deployment in which we will guide you if you face any issue and technical issue in the app.
We will sign a non-disclosure agreement with you to ensure the safety and security of your idea as well as data.
Expert team of data scientists and machine learning experts to ensure that you get quality machine learning solutions.
Transparent communication so that you are updated about the ongoings of your project.
Flexible hiring models to help you choose your machine learning developers as per your requirements.
I was mostly happy with the high level of experience and professionalism of the various teams that worked on my project. Not only they clearly understood my exact technical requirements but even suggested better ways in doing them. The Communication tools that were used were excellent and easy. And finally and most importantly, the interaction, follow up and support from the top management was great. Space-O not delivered a high quality product but exceeded my expectations! I would definitely hire them again for future jobs!
I am really pleased with the prompt responses I got from Space-O. Inquiries were answered within a very short time and issues were fixed within 12 hours. The Space-O team kept open communication at every stage of the process. Working with them felt like a collaboration resulting in the creation of a platform we are more stan satisfied with. The team took our concept and successfully create the platform we have today. Rakesh and his team really have the clients vision as a priority.