Delivering Remarkable Healthcare Experiences
Running a hospital or clinic is like constant pain in the neck. Being a hospital administrator, you might need to monitor and manage daily errands like small and big data of patients, managing finance, patient satisfaction, and workflow of physicians, nurses, and healthcare staff.
Performing and tracking these tasks manually is beyond the bounds of possibility. So, Space-O Technologies is here to develop a mobile and web-based software solution for healthcare professionals, pharmacologists, dispensaries and hospital administrators to automate daily operations with less human intervention.
Our medical app developers have already developed over 40 healthcare application solutions, ensuring HIPAA compliance, interoperability and reliable healthcare applications for mobile, wearables, and web, so you can trust us for your own healthcare software solution.
We Develop Healthcare App Solution For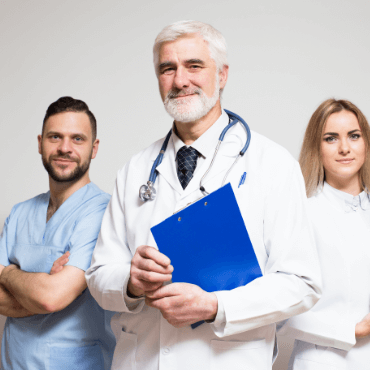 If you are a doctor and have your own clinic, then we can develop on-demand doctor app and web-based software solution for your clinic, allowing your patients to get in touch with you directly. The mobile and web-based app allows patients to book an appointment and schedule audio or video call.
Running a hospital is not an easy task as you need to manage patients' data, hospital staff, and a number of doctors. So, a healthcare software solution is the best option to automate your hospital operations with less human intervention.
If you are a nutritionist and want to develop an app for your patients, let us know and we will develop a nutritionist app that helps your patients to track calories, track food habits, and manage entire day meal plan.
Develop your own web and mobile-based physiotherapy app to connect with your patients and guide them for the daily exercises. The mobile and web-based app will remind your patients for their daily exercise time, allowing them to exercise under your guidance.
We develop mobile and web-based software solution for medical firms irrespective of its size. Helping you to manage everything like appointment scheduling, charting, compliance tracking, stock and order management, and billing, we ensure to make such software solution your medical firm that automates the daily process.
Are you facing problem in managing medical records, patient data & satisfaction, doctors & physician shift timing, and scheduling an appointment accordingly? Talk to us now and let us analyze how we can solve these problems through a technological solution.
Our Expertise in Developing Mobile and Web-based Software Solutions
Electronic Medical Records Management Solution

Charting
Appointment scheduling
Self Service portal
Voice recognition
E-Prescribing
Compliance tracking

HealthCare CRM

Medical history records
Patient communication
Physician management
Marketing automation
Audience targeting

Clinic & Hospital Management Solution

Account integration
Appointment scheduling
Inventory management
Medical billing
Patient records management
Physician team management

mHealth Connectivity Apps

Electronic health records
Telemedicine and telehealthcare
Medical imaging
Customizable macros
Voice capture
Transcription reporting

Remote HealthCare App Solution

Health parameter monitoring
Heart rate module
Patients daily activities tracker

Telemedicine Solution

Appointment reminders
Appointment scheduling
Chat/Messaging
HIPAA compliant
Video calling
Conference calling
Patient queue management

Wellness Apps Development

Sports and fitness activity tracking
Diet and nutrition
Weight loss coaching
Sleep cycle analysis
Stress reduction and relaxation

Laboratory Management

Data Analysis Auditing
Data Security
Multi Location pricing management
Physician test panels
Billing & Sample tracking
Patient data management
EMR interface

IoT-based Solution for Hospitals

Patient's health statistics monitoring
Hand hygiene compliance
Real-time location system
Equipment usage tracking

Ward Management Solution

Patient search & select
Patient health status & monitoring
Material requisition for patient's needs
Roster management
Medical Records Management
HealthCare CRM
Hospital Management
mHealth
Remote HealthCare
Telemedicine
Wellness Apps
Laboratory Management
IoT-based Solution
Ward Management
Different Platforms to Deploy your Healthcare Solution
Here are the different platforms on which we deploy your developed healthcare app solution. We make sure your healthcare software solution is available for your end-users, deploying it on multiple platforms.
Cloud
SaaS
Web
iOS Native
Android Native
Top HealthCare Apps Developed By Us
Vitness Rx: Vitality Based Fitness App

Developed by our healthcare app developer team, Vitness RX is a healthcare app, allowing users to measure heart rate and confirming exercise prescription to optimize performance. The basic idea of our client was to give its users a completely enabled Heart Rate Monitor that alerts users during their workouts, especially when they are not in their ideal training zones.

Here're the top features of this health and fitness app:

Accurate heart rate monitoring
Vitality assessment
Graphical view and chart on vitality
Daily log to maintain exercise log

Sight Selector

Successfully upgraded by our iOS app developers, Sight Selector is a mobile health app for eye care professionals and specialists to help them demonstrate various eye diseases, conditions, and treatment for their patients.

This eye app helps doctors and counselors to educate their patients using 3D images or narrated videos. Moreover, the app allows users to draw on the 3D images, create and save videos. Check out some top features of the Sight Selector app:

3D images and narrated videos for patients
A range of topics on eye disease
Save the topic for later reading
Audio-based topic list to play
Our Process for HealthCare App Development
Gathering Requirements
Initially, our sales representative team gets in with you to comprehend your hospital or clinic day-to-day process and operations. Our team communicates with you to know different problems that you are facing in order to plan and execute strategies and solutions to automate your daily operations.
Wireframing
After comprehending your hospital's daily process and operations, our business analyst team starts creating a framework of your mobile or web-based healthcare solution. Our team creates wireframe of each screen of your app, explaining the flow of the app's features, functionalities, and specifications.
Designing
We do have the best designing team to design each and every screen of your software or healthcare solution, making it easier for doctors, patients, and hospital staff to access your software solution. In fact, our team gives its 100% to design your healthcare solution in the best manner.
Development
It's time for our development team to execute every designed feature, functionality, and specification and develop a complete healthcare software solution from scratch. Our developer team will ensure to automate the complex process of your hospital or clinic.
Testing
We have a dedicated quality analyst team to test each and every feature of your healthcare app solution with utmost care. Understanding the sensitivity and importance of your healthcare solution, our team makes sure that your software solution runs smoothly on multiple devices and platforms.
Launching
This is the final stage of the process. At this stage, we will deploy your healthcare solution to your service and release it on the App Store or Play Store, making it available for your patients, hospital staff, and doctors.
I was mostly happy with the high level of experience and professionalism of the various teams that worked on my project. Not only they clearly understood my exact technical requirements but even suggested better ways in doing them. The Communication tools that were used were excellent and easy. And finally and most importantly, the interaction, follow up and support from the top management was great. Space-O not delivered a high quality product but exceeded my expectations! I would definitely hire them again for future jobs!
I am really pleased with the prompt responses I got from Space-O. Inquiries were answered within a very short time and issues were fixed within 12 hours. The Space-O team kept open communication at every stage of the process. Working with them felt like a collaboration resulting in the creation of a platform we are more stan satisfied with. The team took our concept and successfully create the platform we have today. Rakesh and his team really have the clients vision as a priority.